Yoga, Parents and Children, from Yoga Montreal - www.yogamontreal.com
May 1, 2009
From pregnancy to the late teenage years, the path of yoga has specialized practices for parents and children -- that set the conditions for children to grow with healthy bodies, minds and spirits.


Prenatal yoga classes prepare expectant mothers for childbirth, and help them deal with aches and pains. A mindful, safe gentle yoga class lends itself well to prenatal yoga, with some adaptation for the physical condition, preparing for childbirth, and an intention that focuses on the mother-baby bond.


"People are busy, and sometimes they may not have time to simply assimilate what is happening when they are pregnant," notes Isabelle Lemay, manager of Ambaa Yoga in southwest Montreal. "This is a chance to be present with their bodies; to have meditative time with themselves and to joyfully accept the life that is growing inside them." As the term of pregnancy advances, the unborn child also has an experience of the class. "Even at 20 weeks, the baby can hear the sound of a deep OM. That's a sound that can give reassurance for an entire lifetime," said Lemay.

Whether or not they started with prenatal classes, many mothers take their newborns to mother-baby yoga for quality time with baby. Here the focus is on relaxation techniques, and socializing between mothers. There are breathing exercises, simple stretches, baby massage, simple movements for babies, and tips like reflexology massages of baby feet. The baby is involved in all of the mother's movements.

When babies begin to crawl, it's a different scene. Kate Hudson, a Montreal yoga teacher who trains teachers in the Little Lotus system of yoga for children, describes a yoga class for toddlers (starting around 18 months):

"It can be chaotic, if you are used to a serene class in a yoga studio. But the children learn how to go from excited to calm, and to understand their own states and transitions. Most of all, though, they are having fun: when toddlers do the tree pose, for example, they profoundly embody every aspect of the tree."

Children's yoga is increasingly offered at schools and after-school programs. "It's hard to schedule yoga classes for children," notes Hudson. "Yoga at school is much more accessible. We are finding a lot of daycare and elementary school educators taking the Little Lotus training."

Angie Continisio, the founder of Kids Butterfly Yoga, describes classes for preschool children as "very lively. Kids act out animals and nature. They love moments like the lion breath, and in a playful way they are introduced to poses they will learn more precisely as they grow up."

Up to age 4, classes are short, typically a half hour. As attention spans and endurance lengthen, classes become longer. By age 5 the classes will go 45 minutes, and by age 8, one hour.

When it comes to the pre-teen period, yoga can help young people accept their bodies and the changes they are going through, says Continisio. She also observes lots of boys coming to yoga classes. "Boys need this ability to focus that comes from yoga practice. Many of them are playing sports, and know that yoga helps with concentration and avoiding injuries through flexibility. Boys playing hockey, soccer and other sports also read about their heroes doing yoga, and are eager to follow them."

While most children are physically ready for regular yoga classes by age 14, teen yoga classes can be very good for them as well, says Kate Hudson. "This is a very challenging time in their lives, as they develop the 3rd chakra attributes, develop ego, talents and gifts. A yoga class for teenagers has a slightly different intention, aimed at helping them reach adulthood and autonomy, and offering help and guidance for that particular stage of life."
Yoga for Children - From Laval Families magazine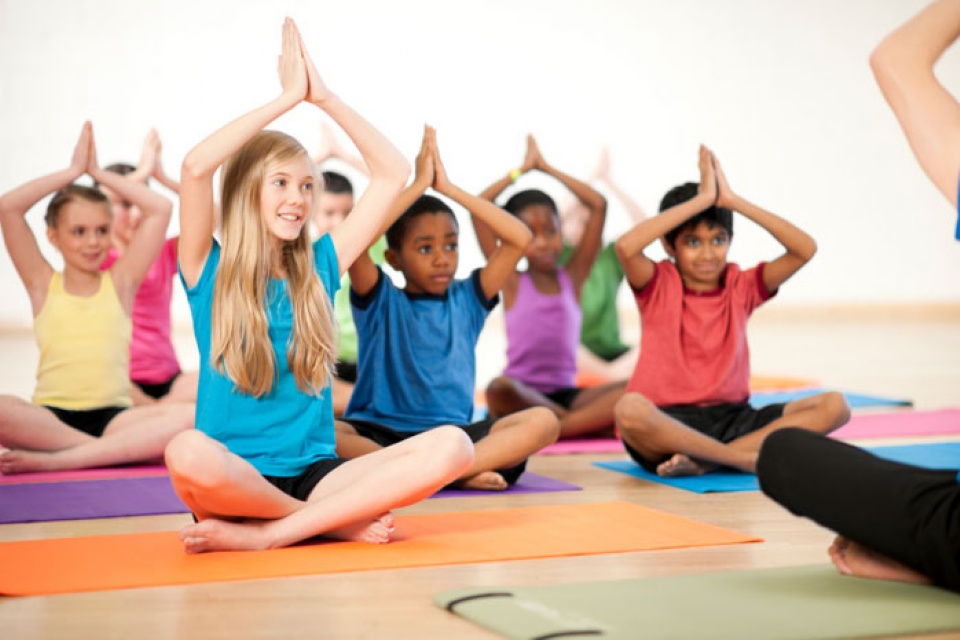 BY: Lili Monette-Crépô
Issue 15
Friday, October 23, 2015
Yoga is a discipline that blends meditation and exercise. It focuses on breathing and balancing the physical and spiritual self and is beneficial for a number of ailments including stress, insomnia and digestion. While yoga is typically associated with alleviating the busy life of adults, it can also be helpful for children.

It eases transitions through different states, from hyperactive to calm for example, which can be a challenge for younger children, according to Kate Hudson, owner of Little Lotus Yoga for Kids Teacher Training in Montreal. She says that yoga helps children to work on their focus, concentration, imagination and creativity. Yoga teaches children how to calm down and how to deal with stressful situations. As yoga poses are related to nature, it also connects children to plants and animals because they recreate all of these things.

Marilou Côté, owner of Bouddha Blanc in Laval ―a company dedicated to yoga for children― says that yoga helps them with movement and cognitive skills.

Gaëlle Cosnuau, owner of Yoga Pour Tous in St-Eustache, agrees and adds that yoga helps children's confidence, posture, self-esteem and socialization. She says that for extroverts, yoga helps them to calm down whereas for introverts, it helps them to break out of their shell. ''There are tremendous benefits in yoga for children,'' she says.

While the benefits may be similar, yoga for kids is not the same as yoga for adults. It has to be adapted to children since their bodies are developing and because they are, by nature, very playful.

There are no risks associated with yoga for children but it's important to stay away from rigidity. It stems from a simpler approach in order to adapt to their motor skills. Hudson says that while yoga for adults is about finding the perfect angle for a posture, this approach is not recommended for kids. Adjustments are to proscribe. ''It's not healthy to say 'it should be done this way''' says Hudson. She also warns against headstands or complicated poses.

Everything that has to do with difficult breathing techniques, such as kapalabhati breath, is to ban. ''We can't force breathing because they are in development,'' says Cosnuau. She also says that two-people postures should not be done with children since they can push each other and fall to a greater risk.

While there are some precautions to be taken, there is also a lot of fun to be had. Yoga for children should feel like a game. There is also a need to show everything and to use play, stories and nursery rhymes

''Children are natural yogis because they live in the moment ―whatever is happening in the moment, they are really present in it― they don't think about other things,'' says Hudson. ''They take so much joy out of very simple things,'' she says.

For parents who are interested in doing yoga with their kids at home, Hudson recommends using YouTube videos as a starting point. She recommends Cosmic Kids Yoga videos, which are available for free on YouTube and provide great stories.

The local library or bookstore is also a great resource because there are many yoga books available that are exclusively for children.

More specifically, Hudson recommends practicing simple breathing exercises such as blowing fingers to take a deep breath. She says that even incorporating little things, like balancing poses on one leg, improves with focus.

For the morning, Cosnuau recommends dynamic routines to create joy, such as sun salutations. For bedtime, she suggests some breathing to calm down. She also recommends doing yoga as a family, because children learn by imitation, so the best thing is for the parents to practice. Case in point, her children do.